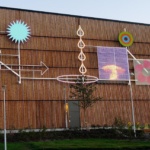 Movement, Time and Drops (flow chart), 2022 Public commission for Multiarenan in Åkersberga,  Sweden
Hagdahl moves between painting, photography, sculpture, moving image, sound and expression in digital media. Often different techniques are combined and work together in the same work. For the multi-arena, he has produced a work in several parts combining different techniques and materials that crates an interactivity between the viewer, the place and the artwork. "Those who move inside and outside the house should be able to influence the work and experience how it changes." Interactivity also provides participation and makes the artwork part of the dynamics inside and outside the house. In this way, the work is in dialogue with those who move on the spot and creates a social dynamic where participation and a multidimensional experience are keywords".
Liquid sky, 2012 made for AMF Fastigheter, MOOD Gallerian, Stockholm.
Liquid sky  is an interactive installation made with ceiling mounted LED screens, computers and sensors,  approximately 200 sqm.
Liquid skyis a site specific installation and can be seen as a communicative membrane between an animated virtual world and our physical world. Detected movements, sounds, lights, temperatures and colors affect the animated virtual world and transform forms, dynamics, colors and structures  in real-time to new visual expressions.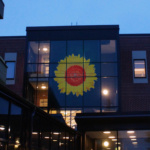 Forms of Influence, 2016, made for the Central Hospital in Gävle, Gävleborgs landsting, Sweden. An interactive installation, LED screen, computer, sensors.
Forms of Influence 2016, is an interactive image flow that responds to events and events in and around the new hospital. The work is placed in a three-story staircase, which is visible from large parts of the hospital area.
Forms of Influence is a continuation of a series of works I worked with that are influenced by its surroundings and using new technology developed works and changing through different flows and actions  from its environment; physical movement, news tickers on the internet, weather changes.
In the work Forms of influence, different sensors detects colors from the surroundings. What people are wearing, colors of cars and trucks changes the visual expression of the artwork and almost like a chameleon. For example, when a blue post car passes the site the work will respond with a blue color or if a person passes by  in an orange coat the work will turn orange. The work is an poetic expression that shows un unstable relationship between  the viewer and the surrounding environment .